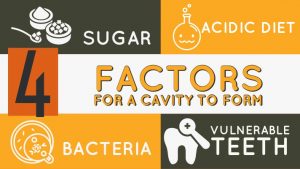 One of the most common diseases that endanger our oral health, are cavities.
It is common knowledge that not washing our teeth properly can result in the formation of decay and even in the loss of our teeth, if this condition is not treated in time.
What we do not know is that there are other factors that can determine the formation of cavities and we will talk about that in our article today.
Factors for a Cavity to Form
Cavities form when certain types of oral bacteria feed on sugars that come from your diet. After they process sugar, these microorganisms release acids that erode the hard outer coating of the teeth, forming small holes (cavities), which get larger and deeper over time. Some teeth (and some individuals) are more susceptible to cavities than others. It takes four factors for a cavity to form: sugar that is converted to acids, an acidic diet, bacteria, and vulnerable teeth. Effective decay prevention focuses on these areas.
✅ Practice good oral Hygiene
✅ Improve your diet
✅ Watch out for cavity promoters
✅ Regular Dental Check ups
To enjoy of the latest on dental care, visit our Social Media Channels Facebook or Instagram
Contact us (954) 491-8812