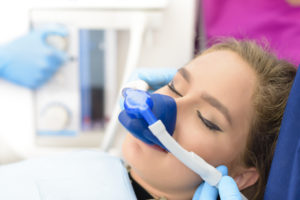 As dental professionals who have been helping people improve their oral health, brighten their smiles and address emergencies for decades, we understand that not everyone is as enthusiastic as we are when it comes to seeing a dentist. 
The good news is that there are a number of ways to ease much of the stress that can come with a trip to the dentist.
Sedation dentistry is a common practice that keeps patients calm and comfortable throughout a visit, whether it is for a routine checkup and cleaning or more intensive procedures like a root canal. Because there are a number of different sedation options available, it is helpful to understand how each works.
At Pearl White Dentistry, we have been using sedation dentistry to help people in Ft. Lauderdale and throughout South Florida improve their smiles and keep their mouths healthy for more than 15 years. 
Dr. Natalia Benda-Celenski has been cited for "Excellence in Clinical Achievement" because of her professional achievement and personalized approach. She also has significant experience using sedation dentistry to improve patients' experience. 
Sedation Options
Fortunately, there are a variety of different sedation options for people anxious about seeing a dentist. At Pearl White, we commonly offer these options:
Oral Sedation:

You take a sedative about an hour before the appointment and arrive already feeling relaxed before your dental treatment begins. This option is often used for people who are very nervous about a visit or are undergoing extensive treatment. The sedative takes some time to wear off, so you should not drive yourself to or from your appointment.

Nitrous Oxide:

Commonly referred to as laughing gas, nitrous oxide is often used for more run of the mill dental visits. It offers a little extra relaxation to relieve any stress during the appointment. The sedative wears off immediately, allowing you to resume daily activities right away.
At Pearl White, we take the time to understand each and every patient's specific needs. Dr. Natalia and her team pride themselves on making personal connections with their patients, including tailoring treatment plans to their individual situations.
Make an Appointment with a Fort Lauderdale Dentist Today
If you want to improve your oral health or brighten your smile and are feeling anxious about seeing a dentist, Pearl White can help.
Whether you are experiencing a dental emergency, need a routine checkup and cleaning, or are thinking about cosmetic dentistry options, we will take the time to understand your situation and walk you through your options. Our patient reviews speak for themselves: the people that we assist are happy with the results!
We work with a wide range of insurance plans and are happy to assist with patient financing. Contact us online, call us at (954) 491-8812, or email us at dr@pearlwhitedentistry.com to schedule an appointment with a Fort Lauderdale dentist.