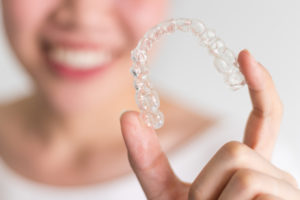 Invisalign is a clear aligner or plastic set of braces used to straighten teeth. Unlike the clunky metallic braces of old, Invisalign trays are transparent and easy to remove. That makes the treatment an increasingly popular option for improving smiles, especially among adults.
At Pearl White Dentistry, we help people straighten and restore their teeth by offering Invisalign and a wide range of other treatments. Dr. Natalia Benda-Celenski has been helping people in Ft. Lauderdale and across South Florida improve their smiles and enhance their oral health for more than 15 years.
Invisalign is a discreet, comfortable and relatively easy way to realign your teeth. If you are wondering whether the treatment is right for you, here is what you need to know.
How it Works
Invisalign takes its name from the nearly invisible clear plastic trays the system uses to align teeth gradually, over the course of months. In addition to being more visibly pleasing than metal braces, they also do not require the painstaking cleaning and regular dental visits that typically come with the old school method. 
The trays are crafted specifically to fit the unique contours of your mouth. Each tray is designed differently to place pressure on different parts of your bite over the course of the treatment. You wear each tray for one or two weeks at a time and then advance to the next tray in the series. So long as you are wearing the trays for the recommended 20-22 hours a day, you can also slip them out when necessary for important meetings and in other situations.
This system allows for slight alignment changes throughout the course of the treatment. Full Invisalign treatment typically lasts for one year. 
How Much Does it Cost?
The cost varies, based on a number of factors. Two of the biggest factors are how much realignment is needed and how well you stick to the treatment. In some situations, people who commit to wearing the trays can complete their treatment in as soon as six months.
Invisalign patients can cut down on the cost by properly caring for the trays and keeping track of them. Properly clean your aligners, keep them out of high temperatures and adequately store them when you remove trays to eat or for other purposes.
At Pearl White, we work with a wide range of insurance plans and are happy to assist with patient financing.
Contact Pearl White to Brighten Your Smile
If you are looking to use Invisalign to straighten your teeth, want to know more about a wide range of other restorative and cosmetic services or are simply interested in making sure that your mouth is healthy, Pearl White Dentistry can help.
Dr. Natalia and her team of dental professionals will take the time to understand your situation and walk you through your options.
Contact us online, call us at (954) 491-8812 or email us at dr@pearlwhitedentistry.com to schedule an appointment with a Fort Lauderdale emergency dentist.