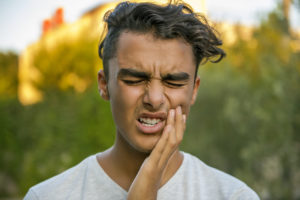 Although life in many ways is on hold during the coronavirus pandemic, emergencies not related to the virus still can and do happen. That includes dental emergencies.
At Pearl White Dentistry, we are continuing to offer emergency dental work during the pandemic. We understand that certain issues must be addressed immediately and we have experience assisting people facing a wide range of emergency situations.
Florida Governor Ron DeSantis has banned health care, dental and other related service providers from performing non-urgent procedures during the "stay at home" order in effect through at least April 30. That move is designed to prevent the spread of the virus and preserve protective equipment and other resources for doctors and medical staff on the front line.
But the governor has also made clear that dentists and other health care professionals are expected to continue providing essential and emergency services for Floridians. That is because time is often of the essence in these situations. Dental emergencies, for example, often must be addressed as soon as possible to avoid significant long-term consequences.
Pearl White's Dr. Natalia Benda-Celenski is a Fort Lauderdale emergency dentist who has been assisting patients in emergency and other situations for more than 15 years. She is a dedicated professional with a personalized approach to her work and has been cited for "Excellence in Clinical Achievement."
Common Dental Emergency Services
Dental emergencies come in many shapes and sizes. Some of the most common situations that we treat as emergencies at Pearl White include:
 

Broken or dislodged teeth

 

Cracked or broken crowns, filings, bridges, and other dental work

 

Severe toothaches

 

Abscessed teeth

 

Objects lodged between teeth
The common denominator in many emergency situations is that time is of the essence. It is vital to get the situation under control and act quickly.
That means immediately trying to stop or slow any bleeding by applying continuous pressure and going to an emergency room if it doesn't slow within 10 minutes. Anyone who thinks they have a broken jaw should also go directly to an emergency room. People who don't need to go to the ER should take over-the-counter medication to address any pain, use ice to reduce swelling and contact an emergency dentist.
Contact Pearl White for Emergency Dental Work
If you need emergency dental work in South Florida, Fort Lauderdale emergency dentist Natalia Benda-Celenski and her team at Pearl White Dentistry can help. If you are looking for more routine dental services to improve your smile overall oral health, we can also help as soon as the stay at home order lifts.
Whether you need a routine checkup and cleaning, are considering Invisalign to address crowded teeth or are thinking about cosmetic dentistry options, we will take the time to understand your situation and walk you through your options. We work with a wide range of insurance plans and are happy to assist with patient financing.
Contact us online, call us at (954) 491-8812 or email us at dr@pearlwhitedentistry.com to schedule an appointment with a Fort Lauderdale emergency dentist.