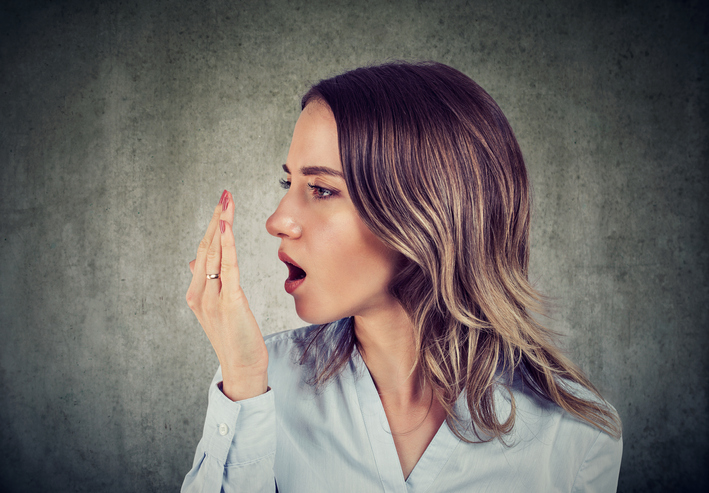 Although chronic bad breath can wreck a person's confidence and signal certain health problems, many people are too embarrassed to properly address the issue. The truth is that roughly one-quarter of Americans suffer from what dental professionals call halitosis. Fortunately, this relatively common condition can be treated with the help of an experienced dentist.
At Pearl White Dentistry, Dr. Natalia Benda-Celenski and her team of dental professionals have been helping people throughout South Florida treat chronic bad breath and maintain happy, healthy smiles for more than a decade. We are pleased to offer patients a wide range of services, from cleanings and regular checkups to teeth whitening, porcelain veneers and dental implants.
Our patient reviews speak for themselves. We have a solid reputation for providing comprehensive and personalized dental services in and around Ft. Lauderdale.
Causes of Chronic Bad Breath
Halitosis can be caused by a number of factors, from diet to disease and many things in between. Poor dental hygiene, smoking, dry mouth, infections and gum disease are regularly the culprit. A number of other serious health conditions may also be to blame, such as:
Acid reflux
Allergies
Diabetes
Kidney Disease
Liver Disease
Respiratory issues
Because the sources of bad breath can vary, consulting a dental professional is key to addressing the issue.
Is it Chronic Bad Breath?
Some people wrongly believe that they are suffering from chronic bad breath.
The occasional morning breath or bout with bad breath after certain meals does not rise to the level of halitosis. Some 5 percent of Americans are said to suffer from "pseudo-bad breath," or the mistaken belief that they have halitosis.
It is important to consult an experienced dentist if you think you are suffering from chronic bad breath.
Treating Bad Breath: Contact a Fort Lauderdale Dentist
Although there is no cure for halitosis, there are a number of effective steps that people can take to manage and reduce bad breath. An experienced dentist can help.
It all starts with good oral hygiene. Regular brushing, flossing and professional dental cleanings can go a long way in combating plaque and gum disease. Routine checkups can also help you and your dentist catch any issues and start addressing them early.
There are a number of other remedies that may be worth exploring. That includes avoiding smoking and tobacco products, drinking eight glasses of water a day to avoid dry mouth and using a tongue "scraper" to help remove bacteria.
Make an Appointment With a South Florida Dentist
If you are grappling with chronic bad breath and are ready for help, contact Dr. Natalia Benda-Celenski and her team at Pearl White Dentistry. We are experienced dental professionals who are dedicated to assisting our patients and brightening their smiles. We work with a wide range of insurance plans and are happy to discuss the various patient financing options.
Contact us online, call us at (954) 491-8812 or email us to schedule an appointment with a dentist today.